There are literally millions of varieties of businesses. Here's one that is a bit unique that you might have some interest in. Today we'll cover a website design for RV customization. Really the business we'll talk about here is even more specific than that. They do RV Hauler customization.
Not everyone knows what an RV Hauler is so let me explain. RV Haulers are really cabs of Semi's which are converted from stark, barren cabs into luxury haulers. These vehicles are designed for those people who really want to pull their camping trailer (or whatever else) in comfort and style while making sure they have the power to get up the hills they want to climb without effort.
We created a website design for this company to showcase the features and benefits of using a hauler instead of a truck.
Take a look at the homepage below (reduced in size for viewing). We'll discuss some of the features of it below the image.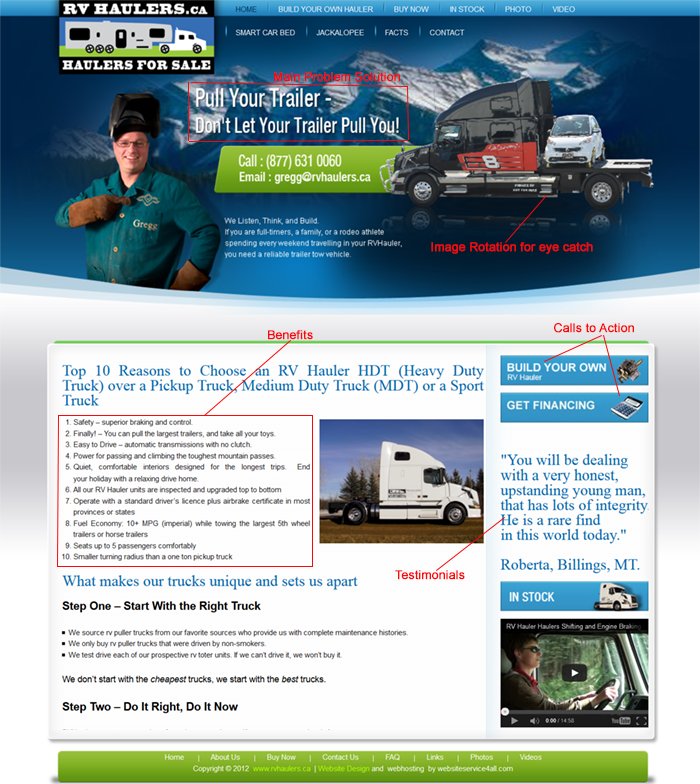 Let's take a look at some of the items of usability on this site and review it's best features (and also failures):
Features
Main Problem Solution:  Many Trailer-Pullers complain of problems being able to tow well when going uphill. The home page is stating and solving the problem.
Image Rotation:  The truck images on the right of the website rotate to give the eye something to look at. This attracts the eye with movement so the reader stays on the page longer (instead of bouncing) and gives them longer to dig in to the content.
Benefits:  The benefits for purchasing an RV Hauler are stated directly on the homepage.
Calls to Action:  The right side of the page encourages you to Build a Truck or Get Financing providing calls to action.
Testimonials:  Testimonials build Authority with the visitor encouraging Trust in the business website
Failures:
Phone number is not on Top Right of the page. That is a universal area for finding a business contact. While the web design follows most of the best usability practices, in this area it fails. This was due to customer requirements.
No Autoplay Video:  Being able to make your sales pitch directly on the page is a huge benefit for the website owner. This website doesn't have it.
Overall the website does well and meets most of the important usability factors for a business site.